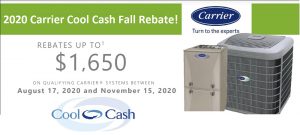 For over 25 years, Reliable Air Conditioning and Heating has been providing quality HVAC services to homeowners in North Hollywood and beyond. As part of our dedication to quality and reliability, we love to help our loyal customers save money in any way we can. Factory rebates on new HVAC systems from Carrier help the HVAC system buying process more affordable and hassle-free.
Save Money with Rebates on New HVAC Systems
When the seasons start to change and temperatures heat up or cool down in North Hollywood, homeowners may might themselves in the market for a new HVAC system. If you find that your current heating and air conditioning system just doesn't keep your home comfortable like it used to, it might be time to trade in the old equipment for a new, more energy-efficient system. During certain times of the year, homeowners may be eligible for factor rebates on new HVAC systems from Carrier. These rebates can help you get the brand new heating and cooling system you need at a lower price. And who doesn't want to save money on home comfort? Want to take advantage of special savings through our Carrier factory rebates? Contact us now to see how our team can help you save money on a new heating and cooling system.
Get Help Buying a New Heating and Cooling System
At Reliable Air Conditioning and Heating, we feel that home comfort should be available and affordable for everyone. In addition to rebates on brand new HVAC systems, we also offer convenient financing options for our customers with approved credit. To learn more about financing options with monthly payments, visit our Financing page. If you're interested in learning more about how you can save money on a new HVAC system through factory rebates, give us a call today: (818) 423-4285